Matt Filippini tuvo un sueño…
El sueño es ahora una realidad…
Esa realidad es el MOONSTONE PROJECT.
Contando con la ayuda de algunos músicos famosos de increíble talento, el guitarrista italiano Matt Filippini hizo su sueño hardrockero realidad con la grabación de TIME TO TAKE A STAND.
Esta es la lista de dichos amigos la cual es suficiente para que le suba la presión sanguínea a todo buen amante de rock…
Ian Paice (Deep Purple, Whitesnake, Gary Moore, Paul McCartney)
Steve Walsh (Kansas)
Glenn Hughes (Trapeze, Deep Purple, Black Sabbath, HTP)
Graham Bonnet (Rainbow, Impellitteri, Alcatrazz, MSG)
James Christian (House of Lords)
Tony Franklin (The Firm, Whitesnake, Blue Murder …)
Kelly Keeling (Michael Schenker, Dokken, Alice Cooper)
Carmine Appice (Vanilla Fudge, Jeff Beck, Rod Stewart)
Paul Shortino (Rough Cutt, Quiet Riot)
Eric Bloom (Blue Oyster Cult)
Howie Simon (Talisman, Jeff Scott Soto …)
Tenemos vuestra atención ahora? Eso suponíamos…
Antes de que empecéis a pensar que este es otro caso de alguien llenando su álbum de grandes nombres para hacerse notar considerad esto…
Matt ha estado tocando en clubs por Europa con Ian Paice durante algún tiempo. Cuando Matt enseñó a Ian las canciones que había escrito, éste declaró que le encantaría tocar en el álbum.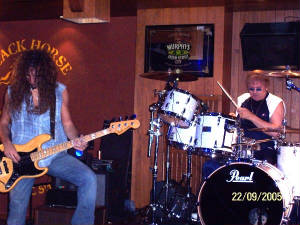 ..::Matt Filippini & Friends + Ian Paice::..
September 22, 2005 Black Horse Club, Cermenate (ITALY)
IAN PAICE bateria - MATT FILIPPINI guitarra - NIK MAZZUCCONI bajo
GIANLUCA TAGLIAVINI hammond - ROBERTO TIRANTI voz
fotos cortesia de: PAOLO SBURLATI, GIORGIO RESTELLI, SOLITAIRE, MATTEO REBUSCINI
El siguiente abordo fue Glenn Hughes, quien contribuye en dos temas con una interpretación vocal fantástica. Lo que hace de este proyecto algo especial es que es la primera vez desde el "Come Taste The Band" de Deep Purple, que Ian Paice y Glenn Hughes aparecen en un álbum juntos. Esto no puede pasar desapercibido entre los fans del hard rock de los 70.
Matt comenta:
"Tenía una canción en mente para Glenn Hughes llamada "Rose in Hell". Para mí representa quién es éste increíble vocalista y más!. Ian Paice ya había grabado la batería. Cuando Glenn aceptó a cantar en el álbum la importancia de esta colaboración me impactó."
Matt continúa:
"Como viejo fan de Deep Purple fue fantástico escuchar a estos dos legendarios artistas en una misma canción".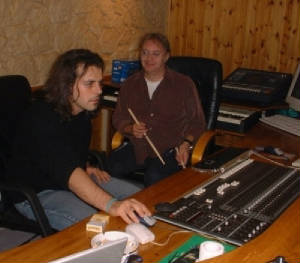 Matt con Ian en estudio - Copyright www.moonstone.it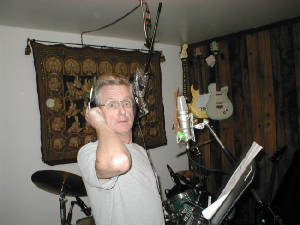 Graham Bonnet - Copyright www.moonstone.it
…y aun no hemos mencionado a los demás nombres! El álbum esta lleno de músicos de mucho talento, digamos que son el grupo base y quienes hacen que "Time To Take A Stand" funcione. Estos son los musicos en cuestión…
Matt Filippini – guitarras
Chris Catena – voz
Alex del Vecchio – voz y teclados
Nik Mazzucconi – bajo
Maury Corriga – bajo
Alex Mori – batería
Gianluca Tagliavini – teclados
Max Numa – guitarra/coros
Y aquí viene la parte excitante. Al contrario de muchos de los trabajos repletos de estrellas, Moonstone Project es de hecho una entidad viviente. Vais a tener la oportunidad de verlos en directo ya que muchos de los protagonistas han accedido a tocar en tantos shows como su apretada agenda les permita.
Recordad, en algún lugar del planeta Ian Paice & Glenn Hughes saldrán al escenario juntos por primera vez desde 1976. La última vez fue en el Liverpool Empire, el 17 de marzo de 1976, durante la gira de "Come Taste The Band" de Deep Purple.
Tenéis que estar ahí…
"Time To Take A Stand" acaba de ser editado a través de Majestic Rock Records.
Para más información visitad la pagina oficial www.moonstone.it
______________________________________________________________
MOONSTONE PROJECT – TIME TO TAKE A STAND
Slave Of Time
Kelly Keeling – voz
Matt Filippini – guitarras
Gianluca Tagliavini – Hammond
Nik Mazzucconi – bajo
Alex Mori – batería
Not Dead Yet
Graham Bonnet – voz
Matt Filippini – guitarras
Howie Simon – guitarras
Gianluca Tagliavini – Hammond
Maury Corriga – bajo
Alex Mori – batería
Fire & Water
Enrico Sarzi – voz
Matt Filippini – guitarras
Nik Mazzucconi – bajo
Alex Mori – batería
Rose In Hell
Glenn Hughes – voz
Matt Filippini – guitarras
Gianluca Tagliavini – Hammond
Nik Mazzucconi – bajo
Ian Paice – batería
Beggar Of Love
James Christian – voz
Matt Filippini – guitarras
Gianluca Tagliavini – Hammond
Nik Mazzucconi – bajo
Alex Mori – batería
Where Do You Hide The Blues You've Got
Glenn Hughes – voz
Matt Filippini – guitarras
Gianluca Tagliavini – Hammond
Maury Corriga – bajo
Ian Paice – batería
City Of Lites
Steve Walsh – voz
Matt Filippini – guitarras
Alex Del Vecchio – teclados
Nik Mazzucconi – bajo
Alex Mori – batería
Bonus track Japón
Silent Hunter
Alex Del Vecchio – voz
Matt Filippini – guitarras
Gianluca Tagliavini – Hammond
Tony Franklin – bajo
Ian Paice – batería
Pictures Of My Lonely Days
Paul Shortino – voz
Matt Filippini – guitarras
Gianluca Tagliavini – Hammond
Nik Mazzucconi – bajo
Carmine Appice – batería
On The Way To Moonstone
Eric Bloom – voz
Chris Catena – armonías
Matt Filippini – guitarras
Johan Niemann – bajo
Daniel Flores – batería, teclados, arreglos